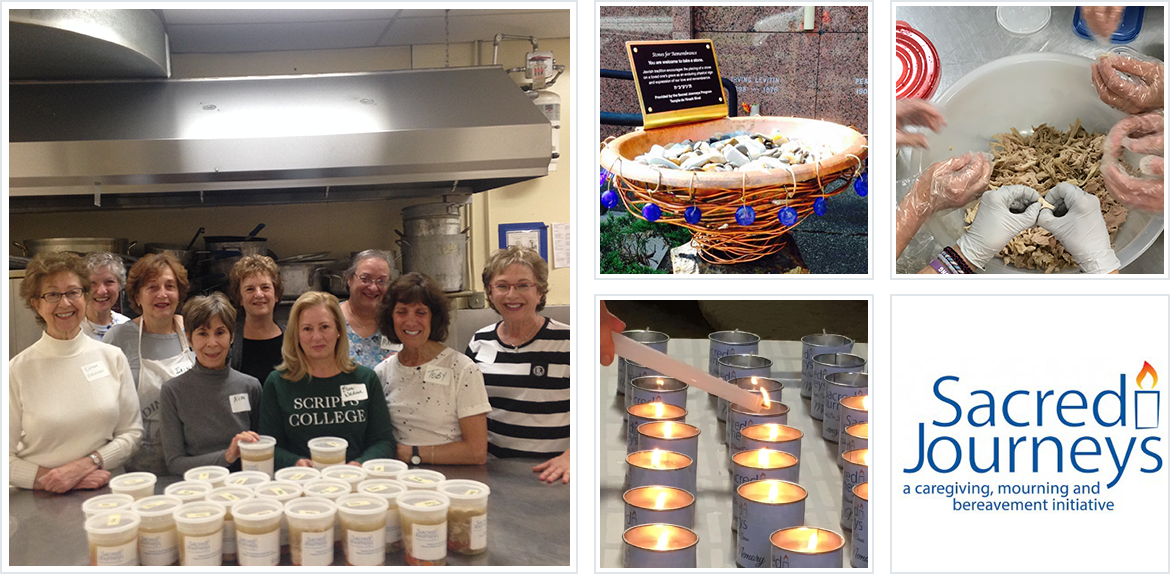 Sacred Journeys is a caregiving, death and bereavement initiative.
Volunteers draw upon personal experience to support other congregants who are taking care of elder/declining parents, dealing with the death of loved ones or are in a period of mourning. This support includes an immediate condolence call on behalf of the congregation; a soup brigade that prepares and delivers soup to families in need; and volunteers who meet families at services when they say Kaddish, and offer general support. Sacred Journeys volunteers also reach out at the time of the first yahrzeit (anniversary of a loved one's death) with a traditional yahrzeit candle.
Please click the following links below to view additional resources:
A Time to Mourn
Mourner's Kaddish Companion
Mourner's Kaddish History
Yizkor
During Yom Kippur afternoon services and on each of the pilgrimage festivals – Passover, Shavuot, and Sukkot – a special series of prayers are recited in the synagogue to honor those who have departed this earth. From the root meaning "to remember," reciting these prayers is an important part of a mourner's emotional journey. Saying Yizkor during these holidays, which themselves invoke many memories, keeps the memory of our loved ones front-and-center even as we continue living our lives.
Unveiling Service
Jewish tradition permits the dedication of a headstone or grave marker any time after the end of Sheloshim, the thirty day period of mourning. It has become customary to wait until approximately a year after the death to hold the "unveiling" ceremony, so named because a white cotton or linen cover is removed from the marker at that time. The ceremony, which is often brief and without a formal eulogy, may take place on any day except Shabbat or a Jewish holiday. To read more click Here
Sacred Journeys partners with Temple's Senior Rabbi, Daniel Weiner, at Kever Avot, a special service held at our Hills of Eternity Cemetery each year on the Sunday between Rosh Hashanah and Yom Kippur.
Sacred Journeys is supported by the William and Edith Warshal Fund for Sacred Journeys and your generous donations.