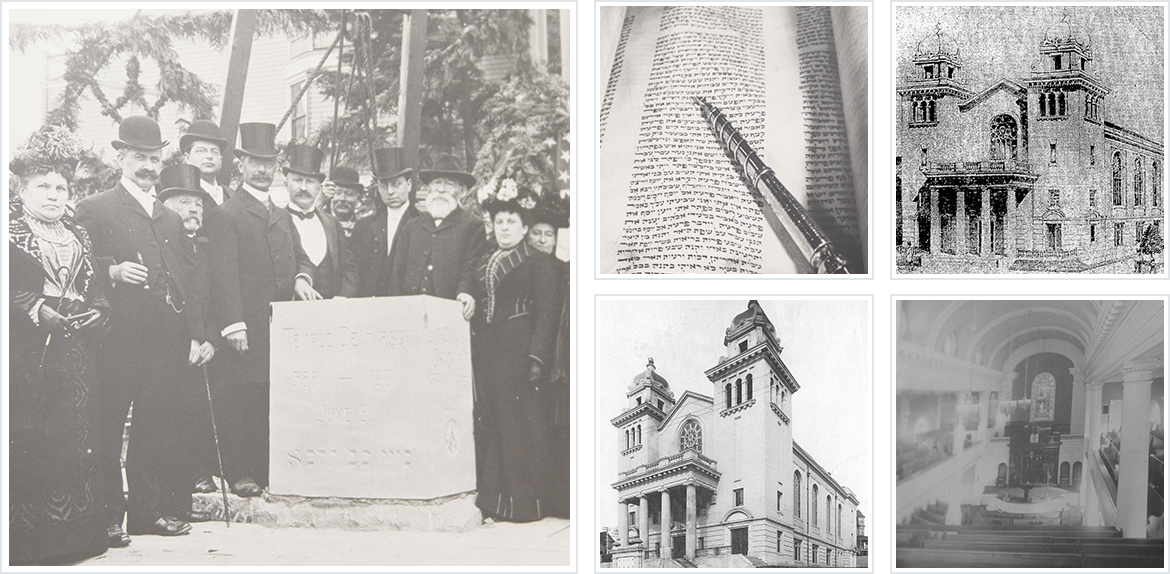 Temple De Hirsch was founded in 1899 on principles of Reform Jewish thought. Today, Temple De Hirsch Sinai is the largest Reform congregation in the Pacific Northwest, with more than 1,500 families and two campuses.
Our Early Beginnings
On May 29, 1899, seven men met in Morris Hall (9th Avenue and Yesler Way) to form a Jewish congregation based on the principles of liberal Judaism, to which the congregation was "committed unqualifiedly." They named their newly formed congregation after the Jewish philanthropist Baron Maurice de Hirsch of England.
The founding members were: Emanuel Rosenberg, Vice President; Sol Friedenthal, Secretary: Max Bornstein, Treasurer; Simon Degginger, Trustee; I. E. Moses, Trustee; and I. Korn, Trustee.
Seventy families contributed $2,400. Rabbi Theodore Joseph of Lancaster, Pennsylvania, was elected as the first spiritual leader of the Congregation. Two years later, on June 9, 1901, at Boylston Avenue and Marion Street, the cornerstone was laid for a new temple building. A basement was built and services were held in the vestry but the rest of the building was never completed.
In August 1906, Rabbi Samuel Koch succeeded Rabbi Joseph. Koch was born in Denver in 1874 and ordained at the Hebrew Union College, the Reform Jewish seminary, in Cincinnati. Like many of the early founders of Temple de Hirsch, Koch's family belonged to an early wave of German immigrants, who had already spent several decades in the American West.
In 1907, a larger site, able to accommodate a rapidly growing membership, was constructed at 15th Avenue and Union Street. On May 29, 1908, exactly nine years after the original incorporation, the new temple was dedicated.
The first services were held in the vestry room on Friday, November 22, 1908. Rabbi Jonah B. Wise of Temple Beth Israel, Portland, Oregon, gave the dedication sermon. Leo Koch, president, and Nathan Eckstein, chairman of the building committee, spoke on behalf of the congregation.
The first meeting in the new auditorium was a memorial service for Babette Schwabacher Gatzert, who, in 1907, had donated the organ in memory of her husband, Bailey Gatzert, the Jewish mayor of Seattle. Today, an elementary school a few blocks from Temple's Capitol Hill location is named in honor of Bailey Gatzert.
Rabbi Koch's Mission
Under Rabbi Koch's leadership Temple de Hirsch's membership grew. The Temple Tidings, the congregation's newsletter, began publication in November 1909 and continues to this day. From the front page of the Tidings, Koch preached, educated and even admonished the congregation.
Sermons were reprinted, as in this example from January 1919, entitled The Obligations of Temple Attendance: "Communal services are not maintained for the benefit of the rabbi. The congregation, after arduous and discriminating care, has not singled him out as the man of all men especially in need of prayer … unless the community generally participates in the worship the synagogue cannot succeed in deepening the Jewishness of the Jew."
The Honor Roll of the Religion school was also printed in the Temple Tidings. A strong religious education program was offered for children from kindergarten through confirmation. Families did not have to be members of the congregation for their children to attend the Sunday school.
Rabbi Koch was an outspoken crusader for social causes: he served on the board of many Seattle social service agencies, worked to create Children's Hospital (today Children's Hospital and Regional Medical Center) and fostered ties between Christians and Jews. In 1924, during Koch's tenure, the Temple Center was built to house the religion school, library, and many social programs.
In 1910, Temple De Hirsch acquired the Hills of Eternity Cemetery, originally the property of an earlier congregation, Ohaveth Sholum.
Rabbi Levine
In 1942, Rabbi Koch was succeeded by Rabbi Raphael E. Levine, born in Vilna, Lithuania. While he was still in school, Rabbi Levine's family moved to Duluth, Minnesota to join relatives. Rabbi Levine was ordained at Hebrew Union College and accepted a post in Liverpool, England. In 1942 he moved to Seattle to serve at Temple De Hirsch. Rabbi Levine became well known for his ecumenical work.
The award winning TV show, "Challenge," which aired for 14 years, was Rabbi Levine's inspired work. It featured local Protestant, Catholic, and Jewish clergy discussing the issues of the day from their respective religious perspectives.
The first show in September 1960 addressed the issue: "Can we have a Catholic president?" The Democrat nomination of John F. Kennedy had unleashed religious prejudices and tensions that the show sought to alleviate through education.
Rabbi Levine also spearheaded a movement to establish Jewish camping programs for youth that stressed friendship, worship, and study.
"I Have a Little Dreidl"
Samuel Goldfarb was the music director of Temple de Hirsh for more than three decades, organizing choirs and performances for all ages. Goldfarb composed and wrote the song, "I Have a Little Dreidl." After its earliest adoption in Seattle public elementary schools, the song went on to achieve international renown.
Temple's Growth
In 1960, Temple De Hirsch built a new sanctuary on 16 Avenue and Pike Street to accommodate the growth in membership. Three architects were responsible for an impressive modern design: B. Marcus Priteca, John Dettie, and John Peck.
In 1971, Temple De Hirsch merged with Temple Sinai, a Reform synagogue in Bellevue, to form Temple De Hirsch Sinai.
Under Rabbi Earl Starr, who became Senior Rabbi in 1970, Temple continued its tradition of community outreach and progressive social programs and celebrated its 100th anniversary in 1999. Rabbi Starr retired in July 2001. He was succeeded as Senior Rabbi by Rabbi Daniel A. Weiner. Rabbi Weiner's biography can be found here.