Rabbi Daniel A. Weiner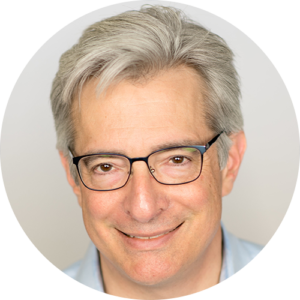 Senior Rabbi Daniel Weiner believes passionately in building Judaism for the 21st century and in healing the world through social justice. Temple De Hirsch Sinai has grown to more than 4,000 members and 1,500 families in two campuses in Seattle and Bellevue since he became Senior Rabbi in 2001.
His innovations in worship include producing "rabcasts" on video, bringing services to travelers and shut-ins on the Internet and leading a rock band in popular Rock Shabbat services. He tweets @rocknrabbidanny.
Rabbi Weiner and his team won the Religion Action Center's Fain Award for their campaign on gun responsibility.  Rabbi Weiner's efforts with other clergy contributed  to the founding of the Washington Alliance for Gun Responsibility, which drafted and helped pass Initiative 594 in 2014.  Work on implementation of the law and about gun responsibility continues.
His columns have appeared in The Seattle Times and the Seattle Post-Intelligencer. Weiner wrote "Good God: Faith for the Rest of Us" about the dangerous polarization between fanatical faith and soulless secularism.
Weiner is married to Cindy Tepper Weiner of Baltimore. They are the proud parents of Julia and Benjamin. He frequently enjoys the glorious climes of the Pacific Northwest while walking their black lab, Sadie.
Rabbi Aaron C. Meyer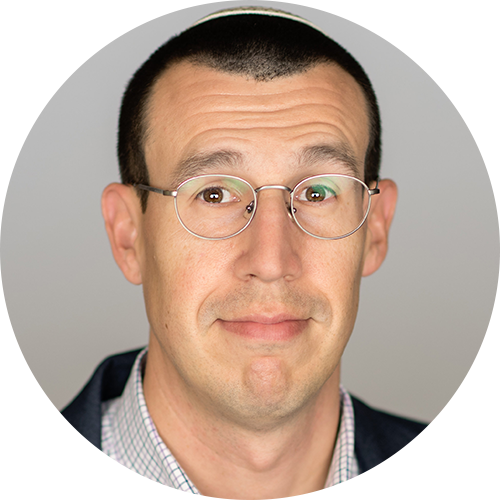 Rabbi Aaron Meyer was born and raised in Erie, Pennsylvania. A tremendously shy and awkward teenager, it took a NFTY trip to Israel and subsequent active involvement in synagogue life to find himself and his love of Judaism. Rabbi Meyer is acutely interested in teen and young adult/young family engagement, both in the synagogue and beyond its walls, because of these experiences.

Rabbi Meyer attended The Ohio State University where he earned a Bachelor's Degree in Environmental Science before his journey to the rabbinate. Diverse experiences while in rabbinical school – the U.S. Army Chaplain Candidate Program, interning at Isaac Mayer Wise Temple, Clinical Pastoral Education with the Harvard gerontology affiliate – pale in comparison to his greatest accomplishments: marrying Rabbi Emily Meyer and raising Evelyn, born December, 2015.  Rabbi Emily leads Congregation Bet Chaverim and teaches in various programs at Temple.

In his eighth year with TDHS, Rabbi Meyer leads our congregational social justice programs and community/legislative advocacy; fosters community among members; sponsors many students for conversion; celebrates weddings and life-cycle events with congregants of all ages; and embraces all aspects of the congregational rabbinate. He is also a fellow with the Seattle University Puget Sound Interfaith Network for Public Theology and is Board Co-Chair of the Faith Action Network, Washington State's largest interfaith network.
 "My favorite metaphor for Jewish life is that of a waterfront, with docks of all shapes and sizes protruding into the water. Each person is looking for a dock upon which to rest, and should – and will! – continue searching until they find the perfect fit. As a rabbi and as a congregation, I believe it to be my/our responsibility to offer many creative, diverse entryways into the Jewish community so that everyone can find their place."
Rabbi Callie B. Schulman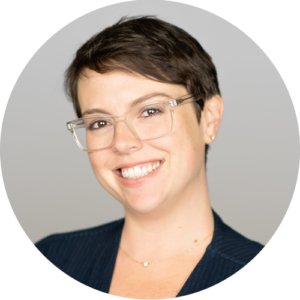 Ordained in 2013 from the Hebrew Union College – Jewish Institute of Religion in Los Angeles, Rabbi Callie Schulman is deeply committed to the continued flourishing of Jewish life on the Pacific Coast. Born and raised in Portland, Oregon, Rabbi Schulman found her voice and passion for social justice within the Jewish community. Encouraged by her clergy and teachers, she became active in both her synagogue's youth group and later the greater NFTY NW region. Those positive connections with clergy and other young Jewish people sparked within her a lifelong passion for community, continuity and creative Jewish living that continue to sustain her work today.
Rabbi Schulman attended Scripps College in Claremont, CA, where she received her Bachelor's Degree in Politics and International Relations in 2003. After working for Hillel (both in Georgia and California), the call of the Pacific Northwest brought her back just in time to fill the newly vacated position of Assistant Director of Education here at Temple De Hirsch Sinai in 2005. After only a few months it became clear  that her path led to the rabbinate, and with the guidance of her mentor, Rabbi Daniel Weiner, she applied and was accepted to rabbinical school in 2007.
Upon ordination, Rabbi Schulman and her husband, Matthew moved to San Mateo, California where she served as an Associate Rabbi/Educator at Peninsula Temple Beth El. There she was able to foster connections with young Jewish people and their families, further develop her musical skills as a service leader, and deepen her commitment to shared understanding within the local Multi-faith community.
Rabbi Schulman is delighted to rejoin the staff of Temple De Hirsch Sinai as an Associate Rabbi and looks forward to continuing the work of helping people connect to Judaism in ways that fuel and feed their lives.