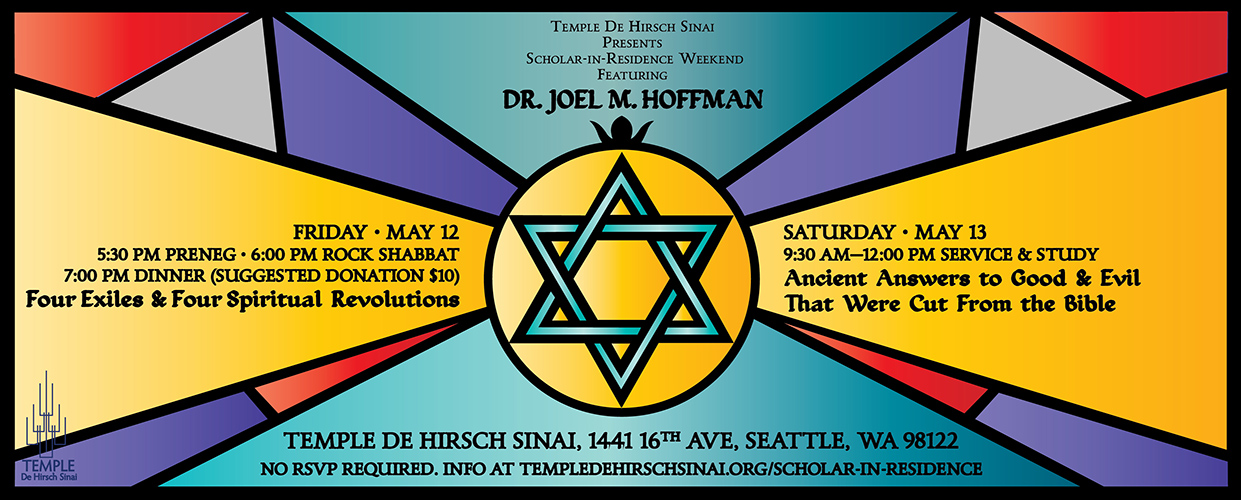 Temple De Hirsch Sinai presents Scholar-in-Residence Weekend featuring Dr. Joel M. Hoffman
Friday, May 12
Preneg 5:30 PM • Rock Shabbat 6:00 PM • Dinner 7:00 PM
Suggested Donation $10
Four Exiles & Four Spiritual Revolutions
A whirlwind tour of 3,000 years of Judaism, focusing on three spiritual revolutions and the exiles that led to each. Then the most recent revolution: modern Judaism. How are we, today, like the prophets and like the authors of the Talmud? How is 21st-century Seattle like the Golden Age of Spain? And what will we build for future generations?
Saturday, May 13
9:30 AM—12:00 PM Service & Study
Ancient Answers to Good & Evil That Were Cut From the Bible
The second half of the Adam and Eve story, missing from the Bible. Abraham's formative childhood. The mysterious Enoch. And the way all three ancient scriptural texts explore the nature of our lives as they explain good and evil.
Temple De Hirsch Sinai, Seattle Campus, 1441 16th Ave, Seattle, WA 98122
Dr. Joel M. Hoffman, one of the world's leading scholars on biblical translations, has published many books related to biblical interpretation, including his most recent work, The Bible Doesn't Say That: 40 Mistranslations, Misconceptions, and Other Misunderstandings, which is the topic for this year's Clergy Institute. He previously authored And God Said: How Translations Conceal The Bible's Original Meaning, as well as The Bible's Cutting Room Floor: The Holy Scriptures Missing From Your Bible. Dr. Hoffman is also the chief translator for the popular 10-volume series My People's Prayer Book. In addition to his non-fiction works, writing under the pen name of J. M. Hoffman, he is author of the fictional thriller series The Warwick Files. Bringing the Bible to life and presenting fresh insights and interpretations about religious life in the 21st century, Dr. Hoffman frequently presents to religious organizations, community groups and university audiences world-wide. Dr. Hoffman holds a Ph.D. in linguistics and has served on the faculties of Brandeis University and Hebrew Union College.
No RSVP required.