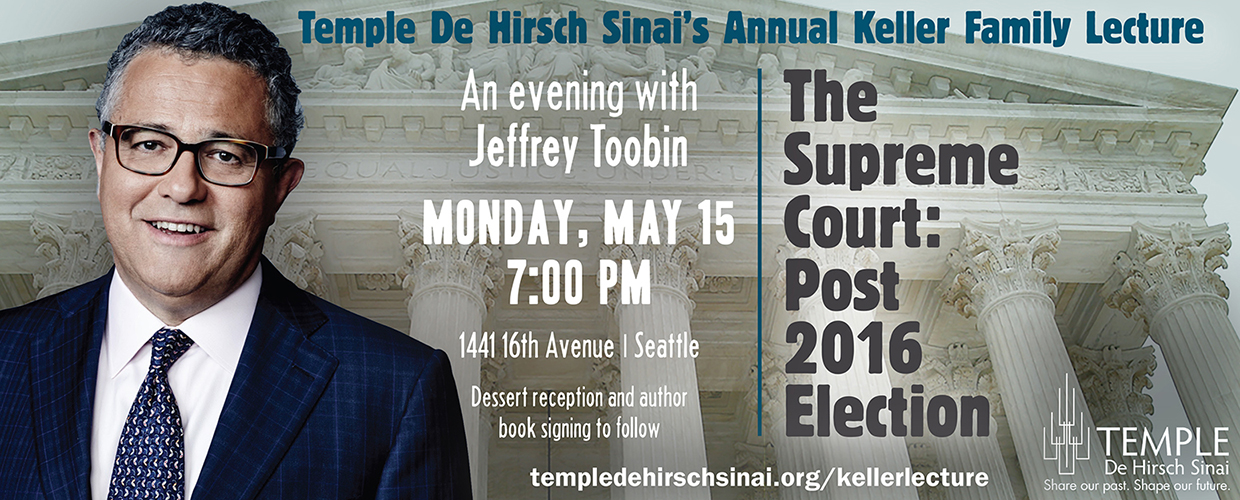 Join us for Temple's annual Keller Family Lecture:
An evening with Jeffrey Toobin
The Supreme Court: Post 2016 Election
Monday, May 15, 7:00 PM
Temple De Hirsch Sinai, Seattle Campus, 1441 16th Ave, Seattle, WA 98122
Dessert reception and author book signing to follow.
Originally established through the vision and generosity of the late Frances and the late Howard Keller, the Keller Family Lecture Series continues to draw the best and the brightest national luminaries from the fields of art, culture, literature and Jewish life to the Greater Seattle Community for this annual speakers' series. Previous speakers have included New York Times columnist and writer Frank Rich, Harvard Professor and author Michael Sandel, Holocaust historian and author Deborah Lipstadt, and New York Times columnist and best-selling author David Brooks. This year's acclaimed lecturer is Jeffrey Toobin - renowned lawyer, author and current legal analyst for CNN and The New Yorker - discussing the U.S. Supreme Court based on his bestselling books The Oath and The Nine: Inside the Secret World of the Supreme Court.
Free and open to the public. No RSVP required.